So excited to announce this little venture I began to think about before Christmas. It's a new year and a great time to start something a little different.
I have looked around A LOT for student based link-up and have found nothing. So here is the first ever week of The Student Link-Up. It is for student bloggers to share their posts about: uni experiences, student living, food, fashion, bargains, beauty bits, fancy dress ideas and all sorts. I personally thought this would be a great opportunity to discover lots of great blogs and hopefully get to know a couple of lovely student bloggers!
Each Thursday at 09:00 GTM the link-up will become live and highlight a post or two from last week's link-up. The link-up will close on the Sunday evening.
1. Please do not promote other link-ups or giveaways through this party
2. Have a look around the other blogs that are linked up and let them know you've visited from The Student Link-Up
3. It would be great if you included the party button on your blog and/or on the post you plan on linking up.
4. Don't forget to tweet about the awesome blogs you find and send people over to this link-up. The more people involved the more traffic your blog will get! #StudentLinkUp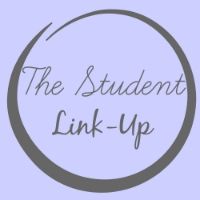 What do you think of this link-up? Please don't forget to tweet about it - I would love to get as many student bloggers involved as possible!