Typically my eighth laptop charger broke this week. Yes you read that correctly - eight! I've had this laptop for two and a half years and managed to break that many chargers. Heaven knows what I'm doing wrong. Due to this inconvienience, blogging isn't the easiest thing to do at the moment. I'm currently using the boyfriend's laptop and will be spending too much time on the library computers the rest of the week. I really hope you lovely lot have better luck with technology than me!
Post of the Week
The post I want to mention from last week's link-up is Jessica Gracie's. So many students suffer with lack of sleep or messed up sleeping patterns and just overall tiredness. Jessica's post,
Beauty Sleep
, shares tips on how to relax and have a much needed good night of sleep. I have made a conscious effort to do two of the things she mentioned. I try not to spend as much time in my room so it's mainly for relaxation and sleep. Secondly I'm attempting to keep my sleeping pattern in check. It's too easy to press snooze instead of getting up at a reasonable hour! Please check out Jessica's blog and let her know what you think of her tips.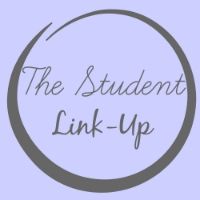 This Student Link Up is for student bloggers to share their posts about: uni experiences, student living, food, fashion, bargains, beauty bits, fancy dress ideas and all sorts. I personally thought this would be a great opportunity to discover lots of great blogs and hopefully get to know a couple of lovely student bloggers!
Each Thursday at 09:00 GTM the link-up will become live and highlight a post or two from last week's link-up. The link-up will close on the Sunday evening.
1. Please do not promote other link-ups or giveaways through this party
2. Have a look around the other blogs that are linked up and let them know you've visited from The Student Link-Up
3. It would be great if you included the party button on your blog and/or on the post you plan on linking up.
4. Don't forget to tweet about the awesome blogs you find and send people over to this link-up. The more people involved the more traffic your blog will get! #StudentLinkUp
I want to say a big thank you to everyone who has gotten involved in this Link-Up so far. Please spread the word and continue having fun at university <3