I'm blaming the stress of upcoming deadlines on how ill I am this week. I have a bit of a cold and every time I sneeze, my laptop decides to stop charging. On a more positive note, it's that awesome time of the week where we get to check out some awesome student bloggers and see what they've been posting recently!
Post of the Week
Rebecca from Polkadot Notebook Blog linked her post on
Advice for Balancing Education, Blogging and Employment
last week. Many students need to work to afford university, especially as maintenance loans sometimes don't even cover rent! Student bloggers have to juggle their time wisely to allow time for their hobby without risk of jeopardising their degree. Life in general is about prioritising, time management and a hell of a lot of organisation. Rebecca's post answers fellow bloggers questions on this subject so please have a look at her advice and let her know you've visited!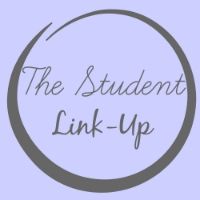 This Student Link Up is for student bloggers to share their posts about: uni experiences, student living, food, fashion, bargains, beauty bits, fancy dress ideas and all sorts. I personally thought this would be a great opportunity to discover lots of great blogs and hopefully get to know a couple of lovely student bloggers!
Each Thursday at 09:00 GTM the link-up will become live and highlight a post or two from last week's link-up. The link-up will close on the Sunday evening.
1. Please do not promote other link-ups or giveaways through this party
2. Have a look around the other blogs that are linked up and let them know you've visited from The Student Link-Up
3. It would be great if you included the party button on your blog and/or on the post you plan on linking up.
4. Don't forget to tweet about the awesome blogs you find and send people over to this link-up. The more people involved the more traffic your blog will get! #StudentLinkUp
Thank you for your support in this project and good luck to everyone facing deadlines at the moment! Please remember to spread the word about this link up <3