I've handed in my deadlines and have the rest of the week to relax and have fun. With all this free time on my hands, I want to try promote this link-up a bit more. If you have any ideas on how to improve this link up please get in touch through the comments or by e-mail. Hello and welcome to any first timers to the link-up! I want to reiterate that this link-up is for students who blog. So link up a recent post and the aim of the game is to comment on each others posts. Let other bloggers know that you're from the Student Link-Up!
Post of the Week
Last week Natalie from
Broke Student Fashion
shared her first vlog post with us. This is the first vlog post linked to us and hopefully not the last! I admire anyone who starts vlogging because I can't imagine how hard it must be to talk into a camera. Natalie did a great job and looks so lovely! She was seriously natural on camera so go watch her lovely video and share some love!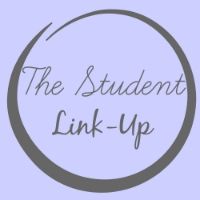 This Student Link Up is for student bloggers to share their posts about: uni experiences, student living, food, fashion, bargains, beauty bits, fancy dress ideas and all sorts. I personally thought this would be a great opportunity to discover lots of great blogs and hopefully get to know a couple of lovely student bloggers!
Each Thursday at 09:00 GTM the link-up will become live and highlight a post or two from last week's link-up. The link-up will close on the Sunday evening.
1. Please do not promote other link-ups or giveaways through this party
2. Have a look around the other blogs that are linked up and let them know you've visited from The Student Link-Up
3. It would be great if you included the party button on your blog and/or on the post you plan on linking up.
4. Don't forget to tweet about the awesome blogs you find and send people over to this link-up. The more people involved the more traffic your blog will get! #StudentLinkUp
Once again thank you for getting involved! I look forward to reading all these lovely posts and I hope you enjoy them all too <3